To provide a comfortable and convenient consumer experience to apply for MEPCO New Connection, MEPCO is equipping itself with modern-era technology and facilitating digital services at the doorstep. Instead of putting applications in manually and waiting for long hours, consumers are encouraged to apply online for new connections and issues related to new connections.
You can also check and download your MEPCO Bill using 14 digits reference number.
Consumers are directed to fill out an online application form for a MEPCO new connection, select the connection category per electricity consumption, fill demand notice and put an online filled application to the MEPCO office. Consumers can also track the record of their application to check if application status is approved or not. If MEPCO has already allocated an existing connection by your name and you want to free download a duplicate electricity bill, print bill now.
You can Check the IESCO New Connection Status: Click Here.
MEPCO New Connection Procedure
Consumers are directed to apply online for a MEPCO new connection instead of filling out manual application. Consumers are advised to attach the required documents carefully with the online application form for pre-verification. The connection application will be automatically rejected if any document is missing and MEPCO fails to verify the applicant's record.
Procedure guidelines to apply online for a new connection are listed below:-
Read the complete guidelines given below, then visit here.
Fill the online application form
Provide reference number of neighbor and address
Select Distribution Company "MEPCO."
Select "Connection Type"
Upload required scanned copies of documents listed below:-
Property document copy
Attested CNIC Copy of Applicant
Attested CNIC Copy of Witness
Neighbor Electricity Bill Copy
Wiring Contractor`s Test Report
Now further on follow the steps:-
Submit the online application
Print online application
Attach in manual required documents with the application
Put application to concern sub division office for verification process
After verification, Pay the demand notice fee in any commercial bank
Submit paid demand notice copy to the relevant office
A new connection will be approved and installed after demand notice verification
After submitting a MEPCO new connection application, you can visit the nearest office to verify if the installation of the connection is approved or not.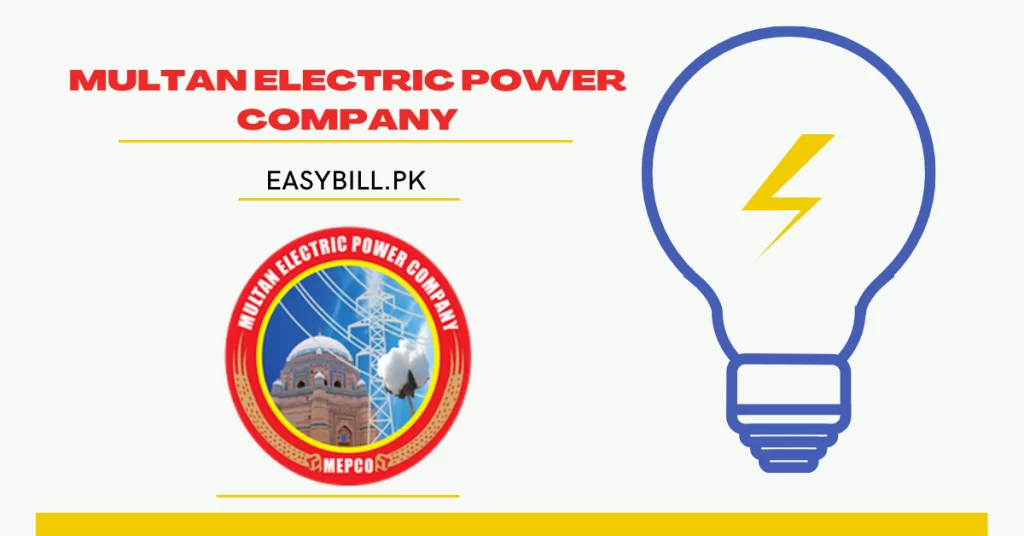 MEPCO New Connection Categories
New connections are categorically divided according to load. The new connection approval duration often depends on the type of load. Approval of a new connection takes time according to the selected category. The estimated time consumed for approval of each category is listed as:-
Category – I Connection – Load Up to 15KW
If you're applying for the category – I connection and load is up to 15KW, the proposed time taken to approve the connection is as follows:-
Applying an online application for a new connection and submitting in manual with required documents in the office usually takes up to 1 day. The relevant office issues a token number to consumers marked as serial no on which consumers application for new connection will be marked.
The on-duty staff verify the place of connection installation by visiting to make sure if the connection is manageable or not, usually marked from 2 – 3 days.
Cost of demand notice is estimated by visiting the connection installation place by the team, it takes 2 – 3 days. Cost depends on how many resources MEPCO needs to utilize to approve the connection.
After the cost estimation, if the connection place is worth approvable, a demand notice is issued to consumers to pay the connection fee. Consumers are directed to collect the demand notice from the office or by post. Issuance of demand notice takes 2 – 3 days usually.
Consumers are advised to pay the demand notice fee in any commercial bank and deposit the paid challan to the office. This step takes typically 2 days.
After the demand notice, consumers are requested to submit a wiring test report. It usually takes three days.
If the office approves the wiring test report, the consumer is allocated a serial number known as the priority number to install the connection, which usually takes 2 – 3 days.
Before installing a new connection, the office issues a service connection order to approve the connection application so that resources required to install the connection are requested and the team to install connection is informed in advance. This process is completed in 2 – 3 days
Service connection orders are dispatched to the office store requesting to provide necessary items for new connection installation. It usually takes 3 days.
The Office store provides connection items to the team in 5 – 6 days.
When the concerned office team receives items from the store, MEPCO managers or SDO pass an order to install the connection physically in the approved place. This procedure will be completed in 5 – 6 days.
The above-completed steps for a category – I MEPCO New connection and load up to 15KW completes in about 30 days.
Category – II Connection – Load 16KW to 70KW
Steps for applying Category – II MEPCO New connection; when the proposed load is not exceeding than 70KW are the same as those mentioned in category – I. But based on requesting more load consumption, approval of this category takes a little more time. The Category – II connection application is entertained and a new connection installation takes up to 44 days.
Category – III Connection – Load 71KW to 500KW
MEPCO New connection requests with load up to 500KW require more time than the rest of the categories. The steps completed for this category connection are the same as others and it requires about 73 days total, starting from submitting the online application and installation of the new connection.
Apart from these categories, consumers can request up to 66kV electricity consumption connection requests. The number of days required to install a new connection depends on the load needed to consume. The more load category consumers request, the more time it will take to install the process. At any step, if you face issues regarding new connection approval, visit MEPCO Complaints.