Check SEPCO Online Bill 2023 – Download Duplicate Bill Fast
You can check SEPCO online Bill and download the latest duplicate Bill copy. You can print the Wapda bill by entering the reference number.
There are a lot of hurdles in receiving the bill physically. So, we provided a simple solution to check sepco bill online.
Check Sepco Online Bill by Reference Number
Table of Contents
Sepco Bill online Check 2023
Going through a daunting process and looking for a web generated duplicate online bill? You can freely download the pdf copy of your bill and print it out. 
How to check Sepco online Bill? You can visit easybill.pk and select sepco company. Type 14 digits reference number and track current month's SEPCO bill.
You can easily track your bill using our free website to view bill details, generate a pdf copy of the bill and print it. To do so, all you need is a reference number. If you're not sure where to find the reference number, you can check the image highlighting area.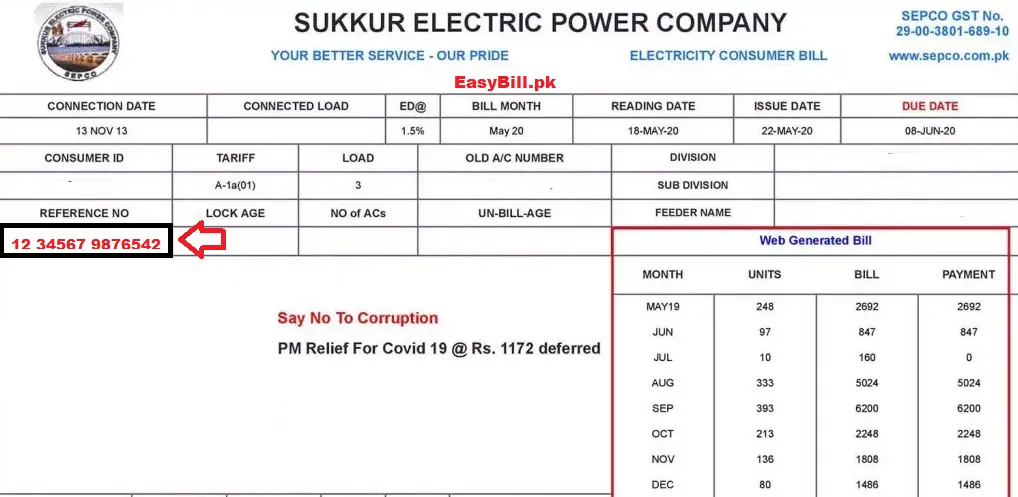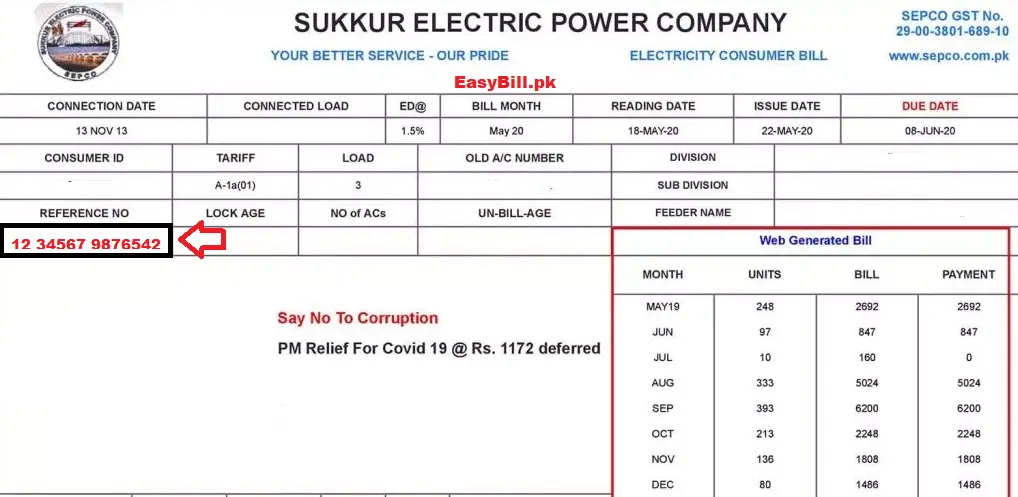 The inquired information on SEPCO online bill helps consumers to understand bill reading date, bill printing date, units consumed for current month's bill, applicable taxes on bill, bill payment due date and overdue amount to be paid.
Duplicate online bill also have payment history of old bills for the last 12 months indicating bill payment status. Bill contains information regarding new bill and old bills of 12 previous months. Consumers can check status if the bill is paid or not.
Using the EasyBill website, you can also track billing information for MEPCO, PESCO, FESCO, IESCO, GEPCO and HESCO bills.
SEPCO Bill Checking Requirements
To check duplicate copy of SEPCO online bill, a 14 digits reference number is required. Tracking information is not possible by name or meter number.
The reference number printed on the WAPDA electricity bill is the primary identity consumer number for tracking bill status. Consumers can't inquire information with CNIC/ NIC or serial number. If you haven't remembered the reference number, you can find it on the previous month's electricity bill.
Steps to Download SEPCO Bill PDF 2023
You can print duplicate SEPCO online bill by simply following easy steps. To download bill, steps guidelines are given:-
Visit EasyBill website
Type 14 digits reference number carefully without spaces
Click on "Check Bill"
If you've entered valid reference number, pdf copy of your bill will be generated
To print bill type "Ctrl + P"
If printer is connected with your computer / laptop, duplicate copy of SEPCO online bill will be printed out
Introduction to SEPCO
Sukkur Electric Power Company (SEPCO) was formed on July 26, 2010 and branched under HESCO. Total areas covered under the HESCO were branched into halves and SEPCO was established to cover Sukkur and nearby areas.
Areas or Circles Under SEPCO
Following are the circles covered by SEPCO.
SEPCO Strategic Vision and Aims
Working for client's satisfaction and equipping with personal as well as professional excellence, SEPCO is highly committed to serve. To meet consumers expectations and completing electricity needs over the years is maintained by SEPCO. Aims and objectives of SEPCO are to professionally deliver the electricity distribution and resolve consumers complaints.
SEPCO Bill Payment Process 2023
SEPCO consumers can deposit bill by visiting or online using digital mobile banking and mobile apps. All commercial banks, Pakistan Post Offices, NADRA E-Centers accept SEPCO bill payment.
Consumers can make online bill payments using mobile banking if they've an account in the bank. In addition, mobile apps like Easypaisa and Jazzcash are also used for online bill payment. Consumers can install these apps on mobile, register for an account using mobile number and make online payments.
SEPCO Helpline for Duplicate Bill Online
SEPCO Headquarter is located at Thermal Power Station, Old Sukkur, Sukkur, Sindh. For general details you can call at 118 or SEPCO Headquarter at contact No: +92 719310795.
SEPCO Complaints
SEPCO consumers can register an online complaint related to bill correction, overbilling, new connection complaints and general complaints. SEPCO has introduced an online complaint management cell to report against any complaint. Visit the complaint management cell to register an online complaint.
SEPCO New Connection Registration
SEPCO maintains existing connections and consumers record to provide smooth electricity distribution experience. Consumers as per need can apply online for new connections. SEPCO aims to accept installation of new connections. You can visit new connection registration and submit an online application.