FESCO Online Bill Download Duplicate Copy
Check your Fesco online bill with our user-friendly platform. You can download and print your Fesco duplicate electricity bill online.
Enter Reference Number
Literally, it seems confusing if you've not received your latest bill yet. If you're wondering and looking for the current month's FESCO online bill, you've hit the right spot.
You can track bill details and download duplicate copy of FESCO Online Bill to print out by using EasyBill website.
Obviously, it's somehow irritating, if your current month's bill is missing. Frankly speaking, this website will provide you with an impressive experience on how to check and free download Wapda electricity bill.
How to Check FESCO Bill Reference Number?
Consumers can fetch bill details by using a 14 digits reference number printed on the bill. FESCO allocates it's consumers so that they can inquire about bill information. If you're not able to find where the reference number on your bill is printed, look at the highlighted image given below.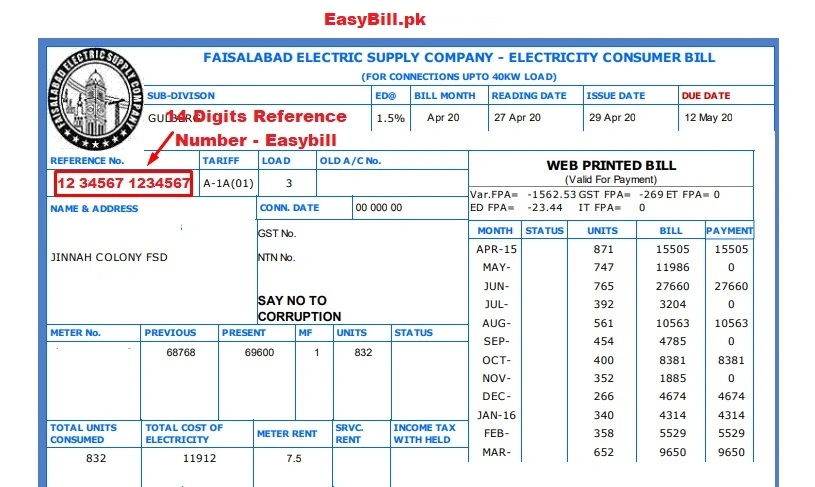 Reference number is a key factor for consumers as it highlights the installed connection information. Typically a reference number looks like:-
13 12178 1234567
The 13 in the reference number points out the consumer's batch number. It is a two digit number that is assigned to the customer when a connection is installed. It represents in which batch, consumer's data is stored.
The 2nd part of reference number 12178 represents the sub-division. There are subdivisions operated under a division. The subdivision basically represents the area where connection is installed. FESCO distributes electricity over various divisions and subdivisions.
The final and 3rd part in the reference number is the consumer's permanent identity number. A consumer can be identified by its last seven digits identification number.
So basically, a reference number is summed up as Batch Number + Subdivision + Account Number.
FESCO Online Bill Download
You can download your current month's FESCO duplicate bill. You can also check the history of your previous bills if the bill is paid or not. You can sort out your paid bills history printed on the bill. You can download duplicate FESCO online bill using this free website.
Visit the website printbill.pk, billur.pk.
Type 14 digits valid reference number carefully
Make sure there's no space between digits
Click on " View Bill "
If the reference number is valid, Pdf copy of your bill will be generated
You can take print of this bill if your computer is connected to printer
To print bill, press "Ctrl + P" and duplicate copy of bill will be printed out
In addition, you can download other electricity distribution companies duplicate bills on EasyBill website. Also MEPCO consumers can check and download duplicate bill using this website.
FESCO Duplicate Bill
Faisalabad Electric Supply Company (FESCO) breaks all the records as it is one of the largest electricity distribution companies with over 4.01 million installed connections and splendidly covering a total of 26 million population. Rest assured, FESCO operates in Faisalabad, which is one of the most industrial cities of Pakistan and seems to be similar to Manchester, United Kingdom. FESCO is working diligently and with splendid performance, turns out high revenue.
FESCO Potential Aims and Objectives
FESCO being the largest electricity supplier, keeps an outstanding fame on providing ease of mind to consumers. It always tends to strengthen relations with consumers so that they can be facilitated up to the mark. FESCO aims to extend it's power distribution services, satisfy existing customers, passionately install new connections and maintain consumers' data privacy. FESCO keeps consumer service at primary objective so that smooth electricity disbursement is never abrupted.
FESCO Bill Covered Areas
FESCO ensures it's services for a total of 08 circles. FESCO is responsible for distributing electricity and maintaining consumer's records for the circles assigned. The circle covered under the FESCO are listed as:-
| | | | |
| --- | --- | --- | --- |
| Bhakkar | Toba Tak Singh | Faisalabad | Mianwali |
| Khushab | Sargodha | Jhang | Chiniot |
FESCO Jurisdiction
FESCO is keenly willing to serve these cities. You can generate your Faisalabad electricity bill (bijli bill) and the rest of the circles as well by simply providing a 14 digits reference number.
FESCO Bill Peak Hours 2023
The FESCO Peak Hours 2023 are as follows:
| | |
| --- | --- |
| Month 2023 | Peak Hours |
| December to February | 5 PM to 9 PM |
| March to May | 6 PM to 10 PM |
| June to August | 7 PM to 11 PM |
| September to November | 6 PM to 10 PM |
Fesco Peak Hours
FESCO recommends less electricity usage during peak hours. Peak hours are considered to be the superior hours when electricity disbursement is in more demand, per unit electricity rate is up as compared to rest hours. For each season, peak hours vary as well as timings.
Consumers are requested to lessen electricity consumption when peak hours are active. Rest assured, It not only empowers FESCO to equally distribute and supply power, but also impacts users in electricity per unit rate.
Electricity Bill Online Check FESCO
Your web generated FESCO online bill features various details including bill reading date, payment due date and bill printing date.
Your current month's new bill holds information regarding units consumed for this month, previous month's bill and status of previous 12 month's bill either paid or not.
You not only find and inquire about a new bill but also can check previous month's bill details like units consumed and payment status.
How to check old bill history? Old Payment history of the last 12 months on your bill points out status regarding bill paid or not paid. Most importantly, you'll also find the reference number and consumer ID on your bill.
FESCO Online Bill Download Requirements
All you need to generate your duplicate FESCO online bill is a 14 digits reference number printed on your bill.
If you've not remembered your reference number, you can visit the nearest FESCO office and inquire about your bill information.
How to check Fesco bill using meter Number? You can't track your Wapda electricity bill by name and meter number. Same like, you can't find bill details through CNIC/ NIC or ID card number. Consumer's can only inquire about a new bill using a reference number.
FESCO Bill SMS Registration
FESCO has introduced an outstanding feature of SMS Service for it's valuable customers in order to facilitate about the billing information and electricity distribution. FESCO aims to respond to customers through SMS. Register Mobile number to activate SMS service against your reference number.
FESCO Bill Payment
Payment of FESCO bill is accepted physically visiting any commercial banks, Pakistan Post offices and NADRA E-Sahulat Centers. For physical payment, consumers are directed to print duplicate FESCO online bill. Payment of bill via visiting and standing outside long queues is a kind of hectic routine and in alternate, consumers can also make bill payments online. In order to pay bill online, consumer's must hold that bank account. For other online payment mobile apps, consumers can download and install from the play store. Online payment modes are:-
Digital Mobile Apps
Easypaisa App
Jazzcash App
ATM-Links
Thus, consumers can use online electricity payment using digital mobile apps and through credit cards at ATM-Links. Contrary to offline bill payment mode, online payments are much more comfortable. In case, if your mode for utility bills payment is online, make sure your mobile phone has strong internet bandwidth and the app server is working perfectly. Sometimes internet abruption can cause payments to be incomplete.
FESCO New Connection
FESCO extends support for the installation of new connections as per consumers' need. Consumers' can register for a new FESCO connection. FESCO is core responsible for electricity distribution and consumers' interest. New connection consumers' can request for new connection installation online. After filling online registration, required documents are attached and submitted to the concerned subdivision office. Register New Connection and fill out an online application.
FESCO Helpline / Telephone Directory
FESCO responds to customers' queries and resolves them related to over billing, new connection installation tracking problems and bill correction. It has also provided telephone directories of individual circles. Consumers' can track concerned helpline numbers by Name, Designation, City, and circle wise. You can inquire about contact details and Telephone Directories.
FESCO Complaints Online
FESCO has introduced Customer Complaint Management System (CCMS) in order to register online complaints. Consumer's are directed to file an online complaint related to their concerns. FESCO aims to resolve them priority based. Consumers can select the type and category of complaint and write a short description related to the complaint. You can file an online complaint.
FESCO Bill Taxes
FESCO imposed taxes on consumers to meet electricity disbursement expenses. When consumers deposit bill, these taxes are added to the bill amount and are paid. Taxes are of two categories, added by FESCO and Govt. Taxes added in FESCO online bill are listed:-
FPA
Fuel Price Adjustment (FPA) is not a fixed tax included in the bill. It is not always imposed on consumers. FPA is collected only when petroleum prices fluctuate. The petroleum prices fluctuation is directly linked with FPA tax. It can be charged for any previous month as arrear and added in the new bill. It is calculated as total units consumed multiplied per unit FPA tax.
TV Fee
Television fee is a fixed tax added to bills by Govt. It is not mandatory to have television at home. It is collected for each connection registration. For industrial consumers, TV Fee is Rs. 35 and for commercial users, it is Rs. 60.
QTR Surcharge
It is added after every 3 months if the units consumed are more than 300 units. Consumers with 300 units plus consumption pay it quarterly.
Disputed Amount
It is added in the bill if there's some kind of invalid activity or fine is imposed on the consumer. It's Fesco jurisdiction to lessen or increase disputed amounts.
TR Surcharge
Tariff Rationalization Surcharge is the difference of tariff between NEPRA and Govt. If the tariff difference is positive, Govt. provides subsidies to consumers. In case, tariff difference is negative, FESCO collects TR surcharge tax from consumers and pays to the Govt.
Frequently Asked Question (FAQs)