Enter Reference Number
If you're a HESCO consumer and haven't received your WAPDA electricity bill then the EasyBill website is free to download HESCO online bill. You can inquire about your HESCO online bill information on this website, track your new bill, view the full bill, download a pdf copy of the bill and print it out.
To print your HESCO electricity bill, you need to type a 14 digits reference number printed on your bill. If you're not able to find where the reference number is printed on your bill, you can check the below image highlighted area pointing out reference number.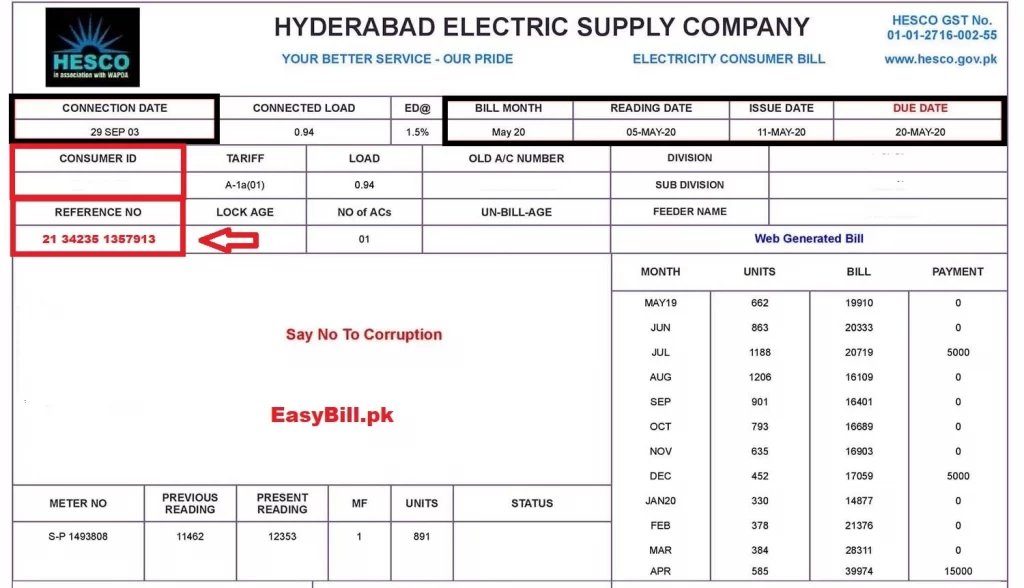 Easy bill website is a free website to generate duplicate HESCO online bill. You can track the new bill and previous month's bill history printed on your bill. You can also check status if the bill is paid or not. Payment history of last 12 months old records are printed on your new HESCO online bill.
How to Download HESCO Online Bill
You can download a duplicate copy of your current month's bill by reference number on this website. To download bill:-
Visit the easy bill website
Type 14 digits reference number and click on " Check Bill "
Make sure, you've typed valid reference number without spaces
If you've entered valid reference number, your bill will be generated
You can download a pdf copy of this bill or print it out
If your computer is connected to printer, type " Ctrl + P "
Duplicate copy of your Hesco online bill will be printed out
EasyBill website is a free website to download MEPCO, PESCO, FESCO, and GEPCO duplicate online bills and is committed to provide a better platform where consumers' can easily inquire about bill information.
HESCO Online Bill Information
Web generated duplicate copy of Hesco online bill consists of various billing information including bill reading date, bill payment due date, units consumed for current month, applicable taxes on bill, overdue payment and consumer's reference number.
HESCO Bill Checking Requirements
Primary requirement to track and inquire about bill is the reference number printed on the consumer's bill. Consumers' can generate duplicate copies of Hesco online bill using 14 digits reference number. You can't download your bill by name or meter number. In case you're not sure about your reference number, you can visit the nearest service center. Consumers' can't track bill by their CNIC/ NIC number. You can check the reference number printed on your bill or the image above highlighting.
About HESCO
Hyderabad Electric Supply Company (HESCO) is the main source of providing electricity to Hyderabad and it's surrounding areas and was established on April 23,1998. Hesco is facilitating about 70 million people with around 1138328 registered connection installations. Hesco is committed to extending services by providing uninterrupted electricity distribution services and accepting new connections installation.
Areas Covered Under HESCO
Hesco is operational and functional in 4 circles of Sindh, Pakistan. Along with 6 construction divisions and 5 M&T divisions, Hesco extends it's services to 15 divisions and 67 sub divisions.
| | | |
| --- | --- | --- |
| Circle | Divisions | Sub-Divisions |
| Hyderabad | 04 | 16 |
| Laar | 05 | 19 |
| Nawab Shah | 03 | 21 |
| Mir Pur Khas | 03 | 12 |
| Total | 15 | 68 |
HESCO Jurisdiction
HESCO Online Bill Payment
Hesco consumers' can make online and offline payments of their bills. In order to make Hesco online bill payment through mobile banking, consumers' must have an account in a commercial bank. Consumers' can also pay bills online using Easypaisa and Jazzcash mobile apps. These mobile apps can be downloaded and installed from playstore for android users and from apple store for apple users.
Physical payment of Hesco bill is widely accepted by all commercial banks, Pakistan Post offices, Nadra E-Centers, ATM-Links and utility shops accepting bill payments. Payment of an offline bill somehow seems confusing waiting outside standing in queues and printed hard copy of bill.
Digital era of modern technology empowers the latest and up to date bill payment online modes without visiting outside. Make sure, your mobile phone is connected with strong internet bandwidth when making online payment to avoid failure server response.
HESCO Online Complaints
Consumers' can call at 118 or SMS at 8118 for information related to billing, new connection, tracking new connection and overbilling. HESCO has also introduced service centers to overcome customer's queries. You can also register an online complaint and track your complaint status if the action has been taken or not against the complaint. HESCO is keenly promoting and establishing relations with customers to overcome their problems to maintain smooth electricity distribution. Register an online complaint if you're facing issues about your billing.
HESCO Headquarter: WAPDA Complex, Hussainabad Hyderabad Sindh, Pakistan
Phone: (+92) 22-9260161
HESCO New Connection Registration
HESCO is extending it's support over 70 million population with thousands of active connections installation. New connections are widely accepted and consumers' can apply online for HESCO new connections. You can easily apply for a new connection online and register an application. You can also track your connection status either approved or not for installation.
Applicable Taxes in HESCO Bill
TV Fee
Television fee is charged @Rs. 35 for industrial consumers' and @Rs. 60 for commercial consumers'. For each new connection, TV is charged separately.
FPA
Fuel Price Adjustment is imposed in case fuel prices fluctuate. The FPA is charged based on fuel prices fluctuation. It can be added for previous months too.
QTR Tariff Adjustment
Quarterly Tariff Adjustment tax is applied after every 3 months in the billing. It is charged based on annual tariff modification.
TR Surcharge
It is Tariff Rationalization Surcharge added in bills as a kind of "subsidy" if the tariff difference between NEPRA and Govt. is positive. If the difference is negative, NEPRA collects from electricity distribution companies.
Deferred Amount
It is a disputed amount added to the bill if the consumer is fined. Disputed amount is unpaid until the case between HESCO and the consumer settles down. There's no overdue payment on the disputed amount.