You can enter 14-digit reference number to check IESCO Online Bill. You can also download or Print the IESCO duplicate Bill Copy.
Enter Reference Number
Sometimes, finding your IESCO bill at the end of month seems a daunting process if you've not received it at your doorstep. It's hard for you to find duplicate IESCO online bill but there's fewer overhead costs for you to generate bill on this website.
You can track and view your IESCO online bill information using your 14 digits reference number or consumer Id printed on your bill. It's quite easy for you to find where the reference number is pointed on your bill, you can get the hint in the image below showing the reference number.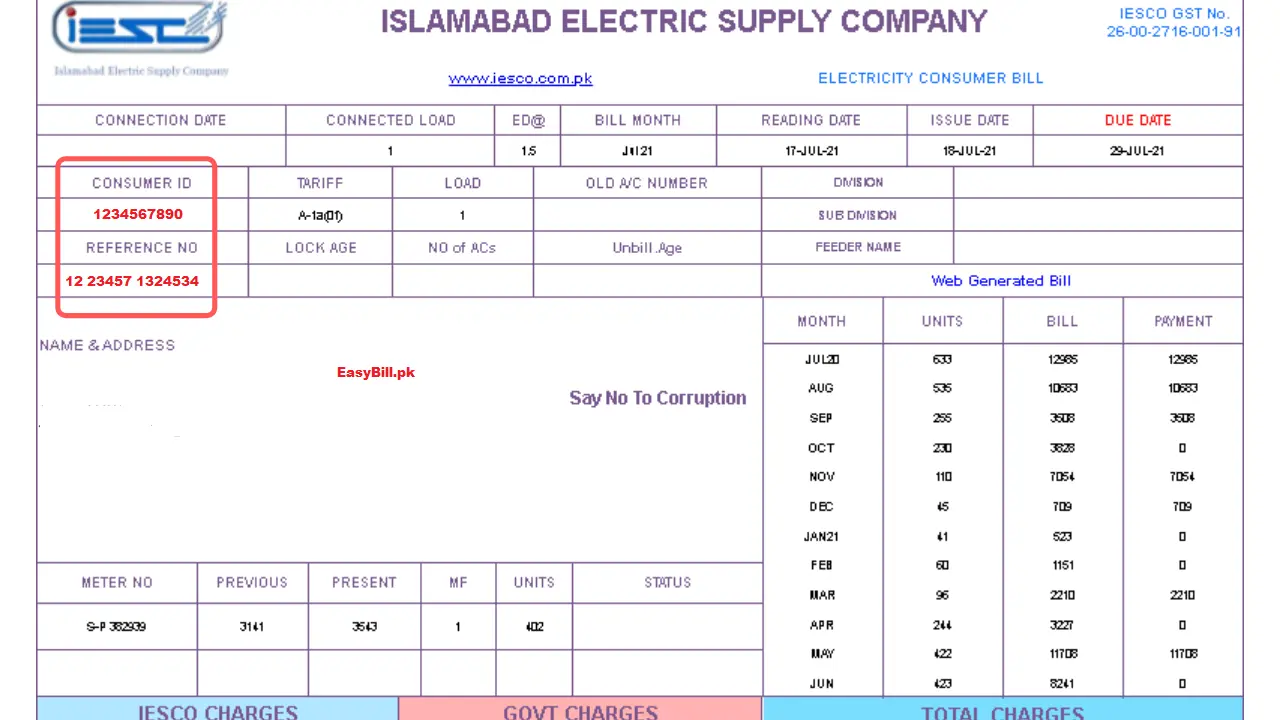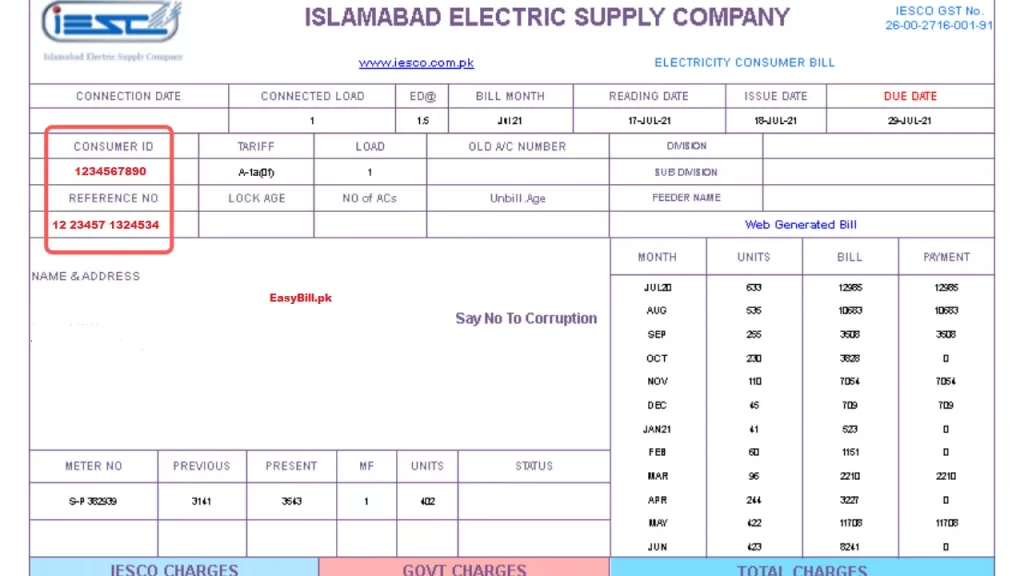 Our free website breaks all the records and provides the most convenient experience to ensure consumer's needs. You'll view, free download and generate a pdf duplicate copy of your bill to pay your bill. You can not only track WAPDA electricity bill information for new bill but previous history month wise can also be tracked, irrespective of that if you're an industrial consumer or commercial.
Consumers of MEPCO, FESCO, PESCO, HESCO and GEPCO can also print duplicate online bills.
Steps to Download IESCO Online Bill Wapda
Consumers' are encouraged to track bills and free download on this website. You can download duplicate copy of IESCO online bill by simply following the steps directed below:-
Type 14 digits reference number carefully without space
Press "Check Bill" button
Pdf copy of your bill will be generated
You can save copy of your bill or print it out
If your computer is connected to printer, type " Ctrl + P "
Your duplicate Iesco online bill will be printed out
IESCO Online Bill Check Islamabad Information
Your printed duplicate IESCO online bill has various information printed on the bill for information. The information consists of bill reading date, units consumed for this month, bill printing date, bill payment due date, bill payment after due date and history of previous paid bill.
You can check the paid status of the previous month bill, if it's paid or not. The payment history of last 12 month's bill information is printed on the bill. You can make verification if your bill is paid or not. If you've not paid your bill for the previous month, it will be added to the new bill with an overdue payment amount.
Your bill also has a reference number and consumer ID printed, in order to assist consumers. Consumer's can file an online complaint, put in an application for bill correction, track information regarding new bill using the reference number or consumer Id.
IESCO Online Bill Checking Requirements
Consumer's are encouraged to check IESCO online bill using consumer number. You can't track bill information by name or through meter number. Consumer number or reference number printed on your bill is a unique identity, used to track your bill. You can't inquire about your bill information by CNIC or serial number. Rest assured, if you're an industrial or commercial consumer, to inquire about bill information by name or through CNIC, you can visit the nearest customer helping service center.
About IESCO
Islamabad Electric Supply Company (IESCO) was established in 1998 to empower and take responsibility for the assets, functions and electricity distribution of the Islamabad Area Electricity Board, which was then a division of WAPDA. IESCO is extending it's services over the year for more than 25 million population along with 3.2 million connections installation. Prime duty of IESCO is to serve and distribute electricity for the 6 circles under it's jurisdiction.
Strategic Objectives of IESCO
IESCO focuses on equality principles to serve the consumer's interest. Providing and promoting a healthy environment to facilitate the user's needs. Passionately willing to resolve the queries filed against, tracking the complaints speedy and extending the services by installing and registering new connections in order to meet client's satisfaction thirst. IESCO is keenly active to establish outstanding relations with the users to make them realize they've hit the right spot.
Areas covered by IESCO Bill
Ultimate struggle of IESCO is to promote the existing consumer's interest on priority by providing sustainable developments. The areas covered under the jurisdiction of IESCO are divided into circle and divisions as listed:-
Islamabad Circle
Islamabad Division 1
Islamabad Division 2
Barakahu Division
Rawalpindi Circle
Rawat Division
City Division
Cantt Division (Rawalpindi)
Satellite Town Division
Westridge Division
Tariqabad Division
Attock Circle
Taxila Division
Pindigheb Division
Attock Division
Jhelum Circle
Jhelum Division 1
Jhelum Division 2
Gujar Khan Division
Chakwal Circle
Chakwal Division
Talagang Division
Dhudial Division
Pind Dadan Khan Division
IESCO online Bill Payment
Payment of IESCO WAPDA electricity bill is widely accepted by all commercial banks and Pakistan Posts Office by visiting physically with a hard copy of the printed bill. You can also deposit bills by visiting ATM-Links using your credit card. It's quite hectic to deposit bills and waiting for long hours.
Consumer's can also make online payments without visiting physically. You can make online bill payments if you've an account in a commercial bank. Some other digital apps to deposit bill online are Easypaisa and Jazzcash. You can create an account and can make an online bill payment. To make online payments, all you need is a strong internet connection to avoid any server side failure.
New Connection IESCO Online Bill Application
IESCO is extending it's coverage area and widely accepts installation of new connections registrations. Consumers' can apply online for new connections and track information about the connection application. Apply a new connection if you've not registered for IESCO WAPDA electricity connection.
IESCO Online Bill Complaints / Customer Service Centers
IESCO has launched customer service centers for online complaints. Consumers' can contact in case of emergency at given numbers:-
Toll Free Number for IESCO Online Bill Help 080025250.
Central complaint and monitoring cell at 051 – 9252933 – 6.
Irrespective of this, IESCO customer service centers are active to facilitate user's. You can contact or visit in case of emergency, bill information or correction.
Also, IESCO entertains online complaints and you can file an online complaint on Customer Complaint Management System (CCMS). You can also track your complaint information using this management system.
IESCO Online Duplicate Bill Tariff Guide
IESCO, being committed to excellence, provides a complete tariff guide for consumers' guidance including all categories. Tariffs and unit rates are applicable on the consumers' bills based on connection category. Tariffs guide includes type of connections category as listed:-
A-1 GENERAL SUPPLY TARIFF – RESIDENTIAL
A-2 GENERAL SUPPLY TARIFF – COMMERCIAL
A-3 GENERAL SERVICES
B – INDUSTRIAL
C – SINGLE-POINT SUPPLY
D – AGRICULTURE TARIFF
E – TEMPORARY SUPPLY TARIFFS
F – SEASONAL INDUSTRIAL SUPPLY TARIFF
G- PUBLIC LIGHTING
H – RESIDENTIAL COLONIES ATTACHED TO INDUSTRIAL PREMISES
I – RAILWAY TRACTION
K – SPECIAL CONTRACTS
IESCO Bill Peak Hours
IESCO directs consumer's to lessen electricity consumption when peak hours are active. It helps IESCO to deal with electricity distribution smoothly. Electricity consumption load is increased during peak hours and proper distribution of electricity may interrupt, thus causing over scheduled load shedding.
| | | |
| --- | --- | --- |
| SEASON | PEAK HOURS | OFF PEAK HOURS |
| Dec to Feb | 5 PM to 9 PM | Rest 20 Hours |
| Mar to May | 6 PM to 10 PM | -do- |
| Jun to Aug | 7 PM to 11 PM | -do- |
| Sep to Nov | 6 PM to 10 PM | -do- |
IESCO Peak Hours
IESCO Online Bill Taxes
IESCO bill taxes are applicable on consumer's based on different scenarios. The taxes imposed are of category IESCO and Govt. These taxes are included in total bill payment. When a customer pays a bill, these taxes are automatically paid. Some of taxes applicable on bill are described as:-
FPA
Fuel Price Adjustment (FPA) is included in the bill when fuel prices fluctuates. FPA is added in bill when there's fuel price fluctuation and arrears are added in the bill.
ED
Electricity Duty (ED) is charged from consumer's based on total units consumed. ED is applied @1.5% of total units consumed.
TV Fees
Television Fees charged Rs. 35 in bill for industrial consumers'. For Commercial consumers' TV Fee is Rs. 60.
GST
General Sales Tax (GST) is applied @17% for total bills consumed. It is calculated by adding ED and Variable charges.
QTR Tariff Adjustment
Quarterly Tariff Adjustment is added in bill after every 3 months and calculated @1.65% multiplying with total bills consumed.
TR Surcharge
Tariff Rationalization (TR) Surcharge is a kind of tariff difference between NEPRA and Govt. If the difference is positive, Govt. pays " subsidy " to consumers. In case the difference is negative, NEPRA collects from consumer's and pays to the Govt. commonly known as "Inter DISCO Tariff Rationalization Surcharge ( IDTR SUR )".
FC Surcharge
Finance Cost (FC) charge is added in bill for collection revenue. It is charged @0.43% of the total units consumed.
Deferred Amount
It is some kind of Disputed Amount added to the bill in case the consumer proved to be involved for any illegal activities. The disputed amount is kept in observation until the consumer proved to be guilty. No overdue payment is made for the disputed amount.