MEPCO Bill Calculator 2023 – Estimated Online Mepco Bill
MEPCO Bill Calculator Online 2023 Calculate and Manage Your Electricity Bills
You can calculate the mepco online bill using mepco bill calculator. This is an Estimated Amount of Mepco Bill. You can check Your Mepco Online Bill for Exact Amount.
MEPCO Bill Calculator
Note: This is an estimated bill.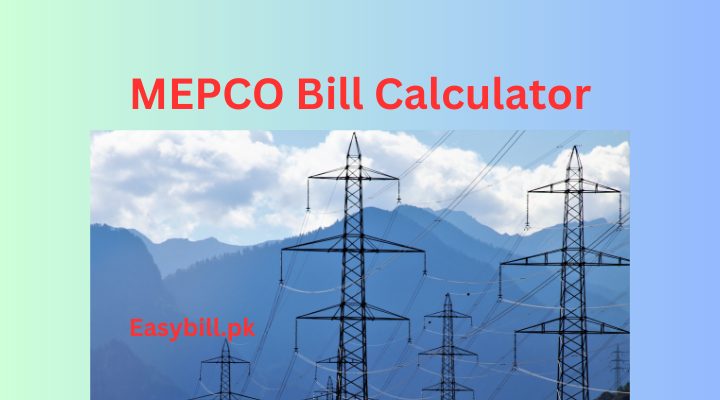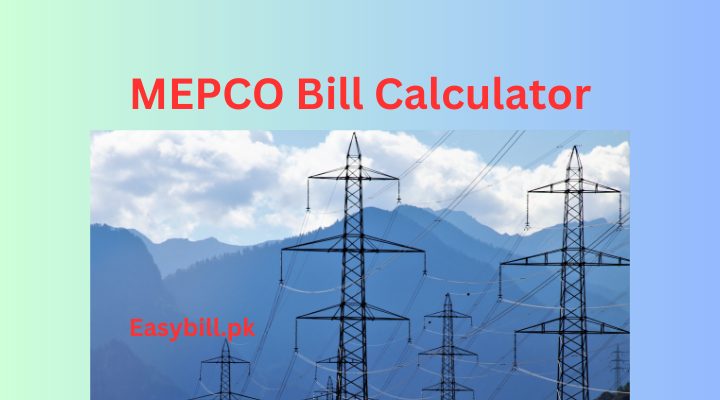 How Does the MEPCO Bill Calculator Works?
The MEPCO Bill Calculator is an online tool enabling users to accurately calculate their Mepco bills. This user-friendly calculator considers various factors, such as the number of units consumed, applicable tariffs, and additional charges, to estimate the total bill amount.
Electricity is an essential utility in our modern lives, powering our homes, offices, and industries. As consumers, it's crucial to keep track of our electricity consumption and understand the billing process to effectively manage our expenses. With the advancement of technology, utility companies have introduced online tools like the MEPCO Bill Calculator, which offers a convenient way to estimate and analyze your electricity bills. In this article, we'll delve into the details of the MEPCO Bill Calculator, explaining its functionality and how it can help you optimize your electricity consumption while keeping your finances in check.
Also Check : SEPCO Bill Calculator
Simplify Your Electricity Bill Calculations with MEPCO Online Bill Estimator
Saves Time= The user can save time and effort using online Calculations.
Accuracy: The Mepco online Bill Calculator is a highly accurate, transparent billing system.
Convenient and Easy-to-Use Interface: The Bill Calculator has a user-friendly interface. The calculator is designed simply in that users enter their consumed units and instantly receive an estimated bill amount.
Accurate Calculation Based on Tariffs: The Calculator considers the specific tariffs set by NEPRA  for different consumed units. It considers the varying rates per unit, ensuring accurate calculations based on your actual usage.
Click here to Check WAPDA Bill Online.
Understanding the MEPCO Bill Calculator:
The Multan Electric Power Company (MEPCO) is one of the major electricity distribution companies in Pakistan. To simplify the billing process and provide transparency to consumers, MEPCO launched the MEPCO Bill Calculator, a user-friendly online tool accessible through their official website. This calculator allows customers to estimate their electricity bills based on their usage, helping them plan their budget accordingly.
How to Use the MEPCO Bill Calculator:
Using the MEPCO Bill Calculator is a breeze. Follow these simple steps to get an accurate estimate of your electricity bill:
Access the MEPCO website:
Go to the website (www.easybill.pk) and navigate to the Bill Calculator section. Ensure that you have the latest electricity tariff rates to get precise calculations.
Enter the required details:
Provide the necessary information, such as your consumer number, billing cycle, and previous month's reading. Additionally, input the current meter reading, which you can find on your electricity meter.
Calculate your bill:
Click on the "Calculate" button to get an instant estimate of your electricity bill for the current month. The calculator will display a detailed breakdown of charges, including the energy units consumed, taxes, and any additional surcharges.
Benefits of Using the MEPCO Bill Calculator:
Cost Estimation:
The primary benefit of the MEPCO Bill Calculator is that it helps you anticipate your electricity bill before it arrives. By inputting your current meter reading and consumption, you can proactively plan your budget and adjust your energy usage to avoid unexpected expenses.
Energy Consumption Awareness:
With the breakdown of energy units consumed displayed by the calculator, you can become more aware of your electricity consumption patterns. This knowledge empowers you to make conscious efforts to reduce energy wastage and adopt more energy-efficient practices.
Billing Discrepancy Verification:
In some cases, billing errors may occur due to technical issues or meter readings. The MEPCO Bill Calculator can act as a reference point to cross-check your actual bill and identify any discrepancies, allowing you to rectify them promptly.
Environmental Impact:
By understanding your electricity usage better, you can contribute to environmental conservation efforts. Lower energy consumption not only reduces your bills but also minimizes your carbon footprint, leading to a greener planet.
Conclusion:
The Bill Estimator offers a practical solution allowing users to estimate their domestic MEPCO bills accurately. You can use this online-friendly tool for bill calculation. You can check Mepco Tarrifs Here.